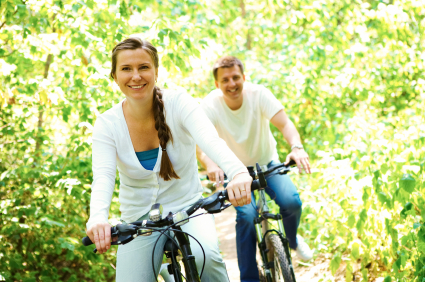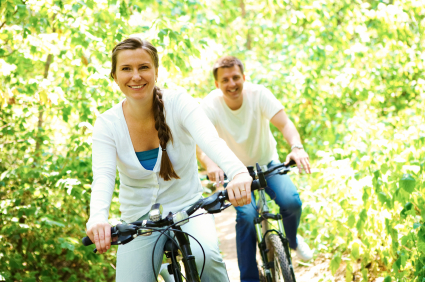 "If mama ain't happy…"
We all know the rest.
Sometimes visitors to the blog are looking to purchase a bicycle for their wife or mother. Sometimes it is the wife or mother who is looking to buy a bike for themselves.
Either way, shopping for a lady's bicycle presents a unique set of challenges.
Women are poorly represented in the sport of cycling. Cycling is heavily dominated by men both at the professional level and recreationally.
Unlike the local running store, which is likely to have near-equal numbers of female and male employees, your local bike shop will commonly have an all-male staff and be more heavily stocked with men's apparel.
Most bike shops have made a conscious effort to create a more female-friendly feel in their stores over the past few years, but it doesn't make the shopping process any less intimidating.
For many of these ladies, it has been decades since they rode a bicycle. Kids and career have dominated every waking moment. It is only now that the children are teenagers, that biking can be a consideration. Often, she is shopping for a bicycle with the specific goal of riding with her family. Or she's dating someone who is into the cycling lifestyle.
And so, mom bravely marches into the local bicycle store or cautiously shops online for a bicycle that will be comfortable, lightweight, durable and — hopefully — not too complicated!
Six Practical Tips to Purchase Your Next Bike With Confidence
This guide is going simplify that process for you. We'll cover the most important elements so that you can purchase your next bike with confidence. There is also a helpful guide over at http://www.davescheapbikes.com/best-hybrid-bikes/ for more details on hybrid bicycles.
#1. Sizing Is Important
Bicycles come in a wide array of sizes. The bike size is measured in inches from the top of the seat tube, down to where the pedal cranks enter the bike.
Here is a handy sizing chart:
5'0″ or shorter = XX-Small = 13″ Frame Size
5'0″-5'4″ = X-Small = 13-14″ Frame Size
5'4″-5'9″ = Small = 14-16″ Frame Size
5'10"-6'1″ = Medium = 16-18″ Frame Size
6'0″-6'4″ = Large = 19-21″Frame Size
Cheaper brands take a one-size-fits-all approach which means that shorter women are forced to ride uncomfortably tall bikes.
Ideally, you should adjust the seat so that when you sit on it and place your heel on the pedal, your leg should be fully extended. That way when you pedal with the ball of your foot, your knee has a healthy, 20-degree bend in it.
This position will feel unnaturally tall but is designed to prevent knee stress. Try it out for 5 minutes. It becomes very natural, very quickly.
#2. Buy A Hybrid
There are many types of bikes you can buy. Mountain bikes are great for riding off the road. Road bikes are dedicated to road riding.
A hybrid bike, specifically one that is called a "comfort bike," is going to be your best bet for maximizing your comfort.
These bicycles tend to have a more upright position, which is noticeably more pleasant on the arms, shoulders and lower back.
They also have tires that are designed for both pavement and light gravel, giving you the best of both worlds.
#3. Get A Better Seat
The seat is the number one cause of complaint. The trick is to choose a saddle that is not overly wide, but that still has adequate padding.
Most of the time, you will need to invest in a better seat than what comes standard on the bike.
The best seats come with a 60 day (or better) "comfort guarantee" that lets you return the saddle if you don't find it comfortable.  If you find that the standard seat is not comfortable, you can try upgrading to one of these aftermarket seats.
#4. Shocks Are Nice But Add Weight
When you think "comfort," what do you envision? A Beach bicycle? (I know I do!).
You might remember the large spring shocks on the early banana cruisers. Shocks have come a long way since then.
If you get a bicycle with shocks, it can add outstanding comfort. However, these shocks do add a couple of extra pounds of weight. If you are buying a bike for fitness reasons and hope to ride long distances (regularly riding longer than 10 miles) than skip the shocks and go for speed.
Otherwise, the shocks make a big enough difference, which it makes sense to invest in a bike with them.
#5. Don't Worry About The Gears
The idea of "shifting" a bicycle is intimidating for many customers. Unfortunately, it is difficult to find a single-speed bike that is also comfortable. Most of them tend to be rather cumbersome.
Shifting becomes quite intuitive. Here's the best way to get comfortable with shifting in the shortest amount of time.
The first thing is to set the bike in a "medium" gear. You can do this by setting the left shifter on "2" and the right shifter somewhere around "4".
With this gear selection, you can ride the bicycle as a single-speed and never shift it.
However, you can also leave the left shifter in "2", and experiment with the right shifter. This setting will give you a feel for how it works, and let you experiment with a broader range of gears.
Then, if you get to the point where you need it, you can begin using the left shifter to select which gear range — low, medium or high — you need to be in.
But only worry about this last step if you are riding hilly terrain that requires it. You might be surprised how much you appreciate the low gears on even small inclines.
#6. You Don't Have To Buy A "Women's" Bike.
Most bikes are fairly unisex. It is still possible to buy a "Women's specific" model with the step-through frame. These frames are handy for women under 5′ 2″ as it allows easier mounting and dismounting and can make the bike much less intimidating to ride.
However, no one will think any more or less of you choosing a bike based purely on comfort and not on aesthetics. If you are willing to focus on comfort, durability, and price over anything else, it is often possible to save a significant amount on your next bike purchase.