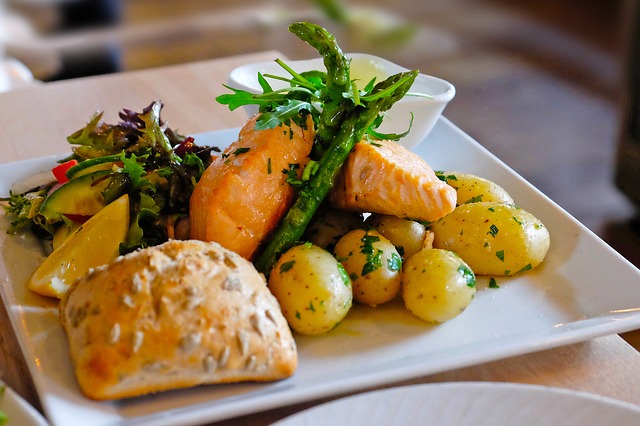 When you're traveling and constantly on-the-go, it seems as though food options are limited and you must grab a meal or snack wherever you can. This is especially true if you are on a business trip and only have a short amount of time to find a meal between meetings.
However, the most convenient food options aren't always the healthiest and don't provide the nutrition you need to stay charged. Luckily, there are simple steps you can take in order to keep up your healthy lifestyle when you're on the go.
Here's a list of strategies for how to squeeze in healthy meals on a trip:
Bring Your Own Meals
To ensure that you have healthy snacks on hand, pre-pack some nutritious foods that travel well. For example, dried fruit, almonds and healthy energy bars, such as Larabars, all pack well. Also consider packing your own healthy alternative oils and condiments with you, which you can purchase in the bulk aisle of health food stores like Whole Foods.
Depending on how long you're traveling for or if you're leaving the country, there may be some limits as to which foods you can bring with you. If you are flying, you must ensure that your liquid containers meet the TSA requirements for security.
Restaurant Research
If it isn't possible to bring your own food, seek out establishments at your destination that provide healthy meals.
Your best bet for the healthiest options is a grocery store. A grocery store is a great place to purchase meals for breakfast and lunch, as their options are simple and they have a wide variety of fresh, raw ingredients. Purchase items that don't require too much prep, unless you're able to find lodging that includes a kitchenette.
Additionally, do some research about the restaurants in town to see which places offer the most vegetable-focused food. Scan through menus to identify what the main ingredients are—if the ingredients are mainly vegetables, it is likely a healthy restaurant. Some examples of restaurants that offer a vegetable-focused menu are Tusk in Portland, Oregon, as well as Kismet and Honey Hi in Los Angeles.
Tech Tools
Your smartphone can help you beyond restaurant research—it also offers apps that support a healthy diet. Restaurants that are chain establishments generally have calorie content information for their foods, which can be found on a calorie counting app.
Apps like MyPlate and Lose It will help you log all of the food you consume, so you can monitor your calorie and macronutrient intake. These apps will also let you set and monitor your nutritional goals, sending you notifications that keep you on track.
Further Informational Sources
There are a number of digital resources that provide additional tips and tricks about the ways you can eat healthy, no matter where you are.
Healthy lifestyle accounts on Instagram, like @rachelgoodeats and @shuthtekaleup, catalog the various ways fitness enthusiasts keep up their nutritional diets when traveling domestically and abroad. Health-focused blogs such as Amway Connections and Love and Lemons can also give you a better idea of how to eat healthy when you are on-the-go or in a new, unfamiliar place.
With a little preparation and research, you can easily find sources and strategies for healthy eating away from home. The most important thing is that you find solutions that work the best for you and your particular needs. Good luck!