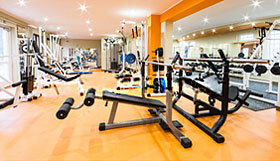 If this year's resolution was to start working out, then you have come to the right place. By finding some affordable gym membership fitness deals, you are out of excuses not to workout. Since losing weight is your main goal this year, you should start searching for the perfect gym that will help fulfill your dream.
If you are on a budget and searching for the best deals, you can go to https://fitnessmembershipfee.com/ to find the best fitness pack. Here you can find reviews for several gyms and the best fitness deals and discounts. Instead of feeling guilty that you haven't started working out but you still want your summer body, you should find a gym close to where you live.
6 Gym Membership Plans That Are Too Good to Pass On
#1. Planet Fitness
If you were to have enrolled between January 1 to January 10, the enrollment fee would have been only $1. For a standard membership, each gym member has to pay about $10 every month. As far as an affordable gym membership is concerned, it doesn't get much cheaper than this. If you choose for the PF Black Card membership, the costs will reach $21.99. This membership has more benefits – it offers you the opportunity to bring a second person for free every time you visit the gym. In this way, you and your guest could benefit from massage chairs, HydroMassage beds and many more. Isn't this one of the greatest deals?
#2. Life Time
This gym was founded in 1992. The Life Time Fitness boasts itself as a "health club". It has pools, spas, climbing walls, nutrition coaches, available for members. There are 127 Life Time Fitness locations.Life Time memberships start at $69 per month. The price may vary a little depending on the location of the gym.Many of the Life Time Fitness gyms are open 24 hours, while the other ones are open from 4amto12am. The gyms are huge and spacious and cater perfectly to both cardio-fiends and iron-heads.
#3. Gold's Gym
Every year,this gym starts its 12-week body transformation contest all over the United States, at participating gyms. Therefore, you should make sure you sign up for this contest, challenging your body and working out to have a healthy lifestyle. You will forget about your extra pounds, being able to build muscle and strength. However, you should know that you have to become a member of the gym to sign up for this contest. Besides improving your health, this contest will also offer you the chance to win one of the cash prizes that have a total amount of $100,000.
#4. 24 Hour Fitness
Last year, this chain of gyms has launched the program 24GO. This customized coaching app offers you personalized workouts that you can practice at home or in the gym. The great part is that this app is available for both members and non-members. From the beginning of this year, the gym staff perceives a $0 initiation fee on all select all-club monthly payment memberships. However, these initiation fees can vary by club, ranging between $39.99 to $89.99. When you decide to become a member, you get access to two new programs, namely Team USA Bootcamp and Strong by Zumba. Do not miss your chance!
#5. Exhale
This fitness location has new promo this year that is available for everyone. For only $200, you can buy a new membership which includes both yoga and spa. This is the perfect way to work out and relax. The membership includes spa therapy and four classes of yoga. Furthermore, for all boutique purchases, you will receive a 10% discount. Your new membership also includes five complimentary passes and private training sessions for friends and family.
#6. Anytime Fitness
This gym chain has over 2,400 fitness locations. Most of these gyms become part of an annual new member campaign at the beginning of every year. However, you should know that most of them charge an enrollment fee, varying between $19 to $69. It is all worth it since new members receive a free group-training or personal training session.
The Bottom Line
Most gyms offer the most affordable discounts at the beginning of the year. However, you are also likely to find great deals throughout the year, whenever there are gym competitions or new programs.
Therefore, you will be able to fulfill the goals set as a New Year resolution and get in shape. When summer is just around the corner, you will look fantastic, losing out those extra pounds you have been worrying about.